Oklahoma Trophy Ranch also offers hog hunting during the fall season. Each weekend hunting package comes complete with a stay in one of our beautiful lodges and a 3000-acre outdoorsman's paradise to play around in after you tag your animal.
We maintain our hog populations to ensure that we are able to offer rewarding hunts for all of our clients. We've cultivated a few spots throughout the property where hogs root and congregate, so whether you're hunting at night or during the day, we should be able to accommodate you.
Wild Hog Hunting
We offer hog hunting from October to January each year, roughly at the same time as deer season. A lot of our clients will purchase a deer hunt alongside a hog hunt so they spend the whole weekend hunting.

There's no shortage of wild hogs on our hunting ranch. They're a non-native species and breed incredibly quickly. In Oklahoma, hunters can kill hogs year-round, and there aren't any limits to how many a hunter can tag in a single season. That makes them a fun hunt and perfect if you're looking to fill your freezer.

We've cultivated a few spots to attract hogs both during the day and at night if that's your preference. We've cultivated our population to ensure that there are large boars available every season, and our guides will be able to show you the best spots to find them.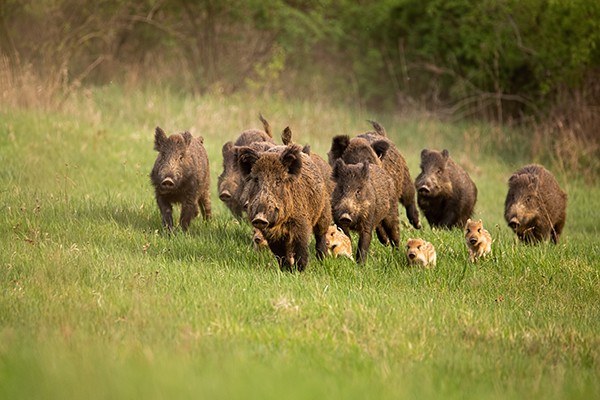 Group Hog Hunts In Oklahoma
Hog hunting is a great way to bring groups together. We regularly host families, groups of friends, and corporate events at our ranch. It's a great opportunity to spend some quality time together in the outdoors. If you're interested in bringing a group to Oklahoma Trophy Ranch, contact us today.
© 2023 Oklahoma Trophy Ranch | Website by
GroupM7 Design